The Department of Climate Change (DOCC) has signed a Memorandum of Understanding (MOU) with Department of Forestry (DoF) as part of its ongoing partnership program as well as to strengthen relationship in promoting climate change mitigation programs in forestry sector.
The signing ceremony took place on Monday 27th April 2020 between the Director of the Department of Climate Change Mr. Mike Waiwai and the Director of Department of Forestry Mr. Rexon Viranamanga.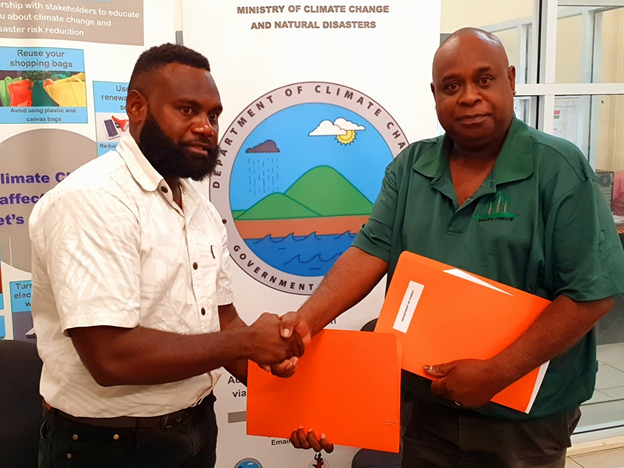 Director Mike Waiwai of DOCC shook hands with Director Rexon Viranamanga of DOF during the signing ceremony.
The signing ceremony took place at the Department of Climate Change conference room in Port Vila witnessed by staffs from both institutions.
The Department of Forestry (DOF) is a government department under the Ministry of Agriculture, Forestry, Fisheries and Biosecurity (MALFFB) which has the regulative and administrative responsibility for the management of the forestry sector throughout Vanuatu. It leads the implementation of the National Forest Policy and implements and enforces the forestry legislation. It promotes the integral and sustainable management of all forest resources for the supply of products and services.
The DOF provides forest policy advice to the Government and ensures the sustainable management and conservation of Vanuatu's forests, while the Department of Climate Change also a government department under the Ministry of Climate Change and Natural Disasters (MOCC) who is overseeing all climate change adaptation and mitigation initiatives and activities in Vanuatu. Through this MOU, both Parties have agreed to strengthen their relationship through a framework of cooperation and to facilitate collaborations to promote climate change mitigation programs, research and joint activities in Vanuatu.
Under this MOU, the Parties have agreed to support and assist each other to improve the general knowledge on the climate change mitigation activities and introduce industry best practices in Vanuatu.
The MOU is also to enhance the net carbon sinks, work towards establishing an online database and dashboard which will serve as the repository of all data and information about the climate change mitigation from the Forestry sector in Vanuatu.
The MOU will assist both parties in the sharing of the data on forest state and cover for the reporting purposes and collaborate in addressing climate change mitigation in the forestry sector, forest and landscape restorations to address the drivers of forest degradation and deforestation and engaging both parties at the relevant climate change programs at the national, regional and international levels is key and enable the access of resources between both parties to accelerate climate change mitigation programs in future. DOCC is looking forward to more collaboration with Department of Forestry in the future.